MEMBERS AND VISITORS ARE REMINDED OF THE COVID-19 RULES
Make sure you scan the QR code or manually add your name in the book provided. Members are also reminded of the rules for wearing a mask inside unless you are eating or drinking. All staff and members working in a front-facing role MUST wear a mask. This is mandatory.
WELCOME TO THESE NEW MEMBERS
Alan Bisset
Darryll Sowry
Marian Baker
AGM date has been changed to Wednesday 24th November 7.30pm
CHAMPIONSHIP FINALS RESULTS CONGRATULATIONS TO ALL
| | |
| --- | --- |
| DIVISION | PLAYERS |
| Senior Men – 36 holes | Danny Pierey defeated Nigel Pearson |
| Junior A Men – 36 holes | Brett MacDougall defeated Harold August |
| Junior B Men – 36 holes | Joe Cuttance defeated Ian Chambers |
| Silver Ladies – 36 holes | Lisa Cotton defeated Pam Bisset |
| Bronze 1 Ladies – 36 holes | Pam Huddleston defeated Margaret Brislane |
| Bronze 2 Ladies – 18 holes | Deirdre Power defeated Trish Cuttance |
| Bronze 3 Ladies – 18 holes | Kay Ball defeated Mary McAvoy |
| PENDING (by end of the month) | |
| Intermediate Men – 36 holes | Peter Timmins vs Lionel Toheriri |
DON'T FORGET, TWILIGHT has started and will be free throughout October. See our website for details. Contact Steven if you have any queries.
CONGRATULATIONS to Lisa Cotton on gaining selection to the Manawatu-Wanganui Women's Rep team to play in the Sybil Green fixture at Masterton 29th-31st October. Good luck Lisa.
FUTURES GOLF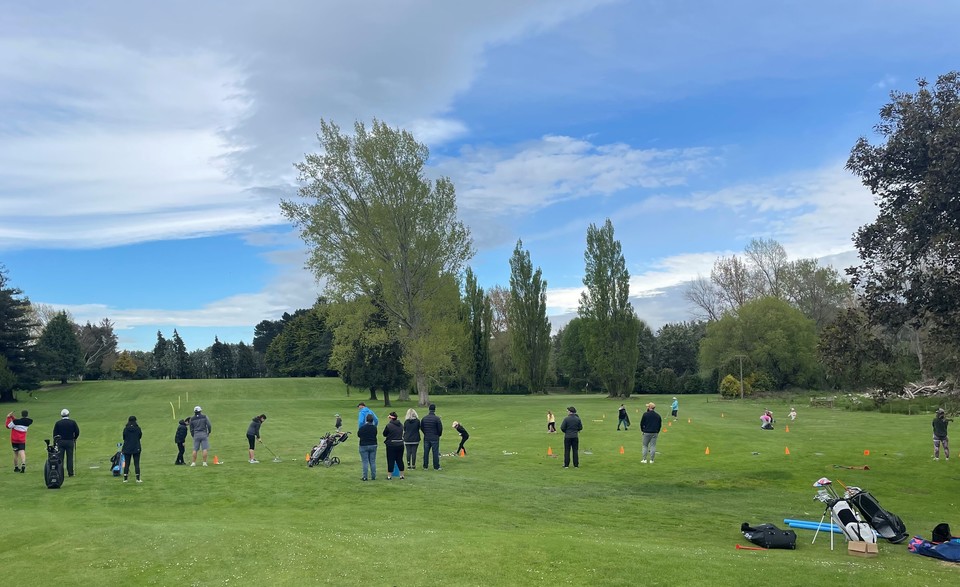 FAMILY OPEN FUN DAY We hosted 19 young people participating in a Futures Programme Play and Learn session. In a Family Fun Day, the players enjoyed activities and fun games based on learning golf, including chippers for short game play and crushers for driving. The course and activities were set up and coaching was available by Manawatu-Wanganui Regional Participation Growth Coordinator Rhys Watkins and Joel Macklin Golf Professional from Masterton Golf Club. NZ Golf Love Golf Futures programme has something for young people of all ages and abilities.
Thanks to those members who came along to help out with coaching, food etc
SHE LOVES GOLF
Each Thursday several ladies get together to learn and play golf under the NZ Golf She Loves Golf programme.
Our ladies Pam Bisset, Sue Ross and also Trish Cuttance along with Man-Wang's Rhys Watkins take these ladies through their paces. The uptake is such that places are limited.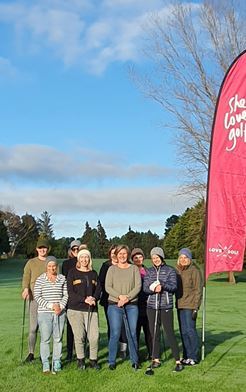 CONGRATULATIONS TO OUR LADIES' DISTRICT DAY WINNING TEAM
On Friday at Eketahuna our team of Margaret Brislane (30 points), Deirdre Power (32) and Colleen Daysh (31) won the Heather Williams Shield for best team stableford points. Their combined score of 93, was four ahead of second-placed Eketahuna on 89 and third Manawatu on 88. District Day is an annual event which serves as a fundraiser for the Association. Clubs can enter as many teams as they wish. There were 14 teams entered from around the Manawatu-Wanganui District. We had 2 teams participating.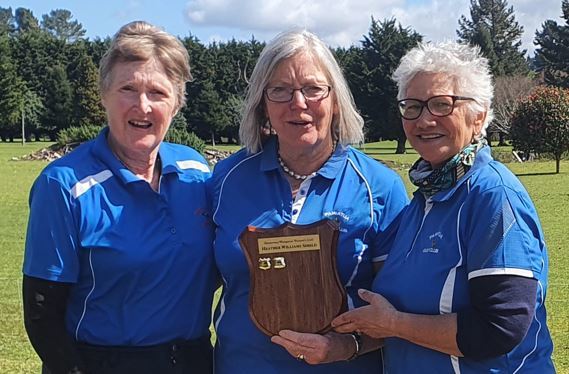 LATEST RESULTS:
Tuesday 12th October – 6x6x6 Pairs

Due to iffy weather, it was decided to play 9 holes so competition was 3x3x3 playing 3 holes Ambrose, 3 holes foursomes and 3 holes 4BBB.

1st S Ross and K Ball 24 nett

2nd C Daysh and D Power 24.5 nett

Drawn Twos: D Henricksen

Accuracy: Longest Putt #18, T Cuttance

Thursday 14th October – Hibberd Trophy (Stableford Haggle)

1st N Pearson 36 points

2nd S Huddleston 33 points

Saturday 16th October – Stableford

1st C Wallace 40 points

2nd I Fraser 38 points

3rd J Kelly 37 points

4th T Kerins 35 points

5th J Smith 34 points

6th R Fryer 34 points

Closest to Pins: J Smith #9, C Wallace #12

Twos: There were none.

Tuesday 19th October – Aloma Jackson Shootout (14 participants)

Margaret Brislane turned the tables on Pam Huddleston for her championship loss and beat Pam in a chip off on the 18th to win the shootout this year. Well done to both you both, and congratulations, Margaret.

The rest of the field in order exiting hole: 17th C Daysh, 16th T Cuttance, 15th D Smith, 14th S Ross, 13th P BIsset, 12th L Wheeler, 11th D Power, 10th D Henricksen, 9th M Bollard, 8th M Hunt, 7th M Alding and 6th S Ashton.

A big thank you to John Delehanty the referee for a fair and impartial job done.
BUSH CLASSIC ENTRIES NOW AT 47 21.10.2021
UPCOMING EVENTS
Saturday 23rd October

Medal, Vet's Trophy Rd3 12.15pm

Monday 25th October

Labour Day

Tuesday 26th October

Captain vs Secretary 10am

Thursday 28th October

Stableford, Club haggle 12.15pm

Twilight 4.30pm

Saturday 30th October

Medal, Vet's Trophy Rd4 12.15pm

Sunday 31st October

LAST DAY FOR MATCHES

Monday 1st November

Rangatira Ladies Christmas Cheer 10am

Tuesday 2nd November

Melbourne Cup Stableford, Horse and Jockey

Wednesday 3rd November

Riversdale Beach Ladies Christmas Cheer 10am

Thursday 4th November

Stableford, Club haggle 12.15pm

Twilight 4.30pm

Saturday 6th November

Medal, Nett plus Putts 12.15pm

Sunday 7th November

JUNIOR EAGLES, COURSE CLOSED

Tuesday 9th November - Stableford

Committee working bee for Christmas Cheer

Wednesday 10th November – NOTE DATE!

Stableford, Club haggle 12.15pm

Thursday 11th November

LADIES' CHRISTMAS CHEER 10am

Twilight 4.30pm

Saturday 13th November - Stableford

PGA Decanters mixed combined stableford 12 noon (own partners)

Sunday 14th November

CHAMPION OF CHAMPIONS Palmerston North, details later.
END
Posted: Thursday 21 October 2021