THIS WEEKEND – OPENING DAY AND SUMMER SHOOTOUT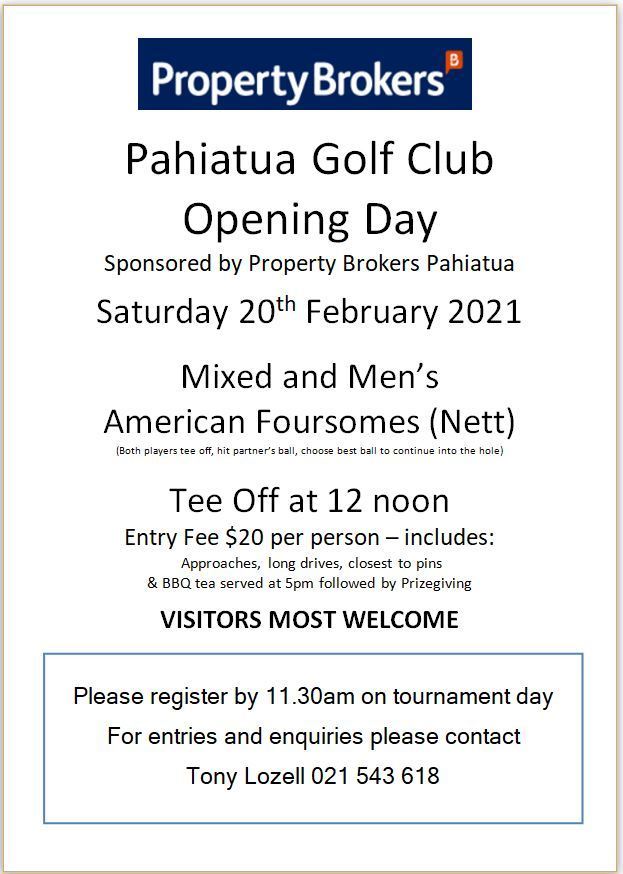 SUMMER SHOOTOUT – SUNDAY 21st FEBRUARY 9.30 am, get your names in, guys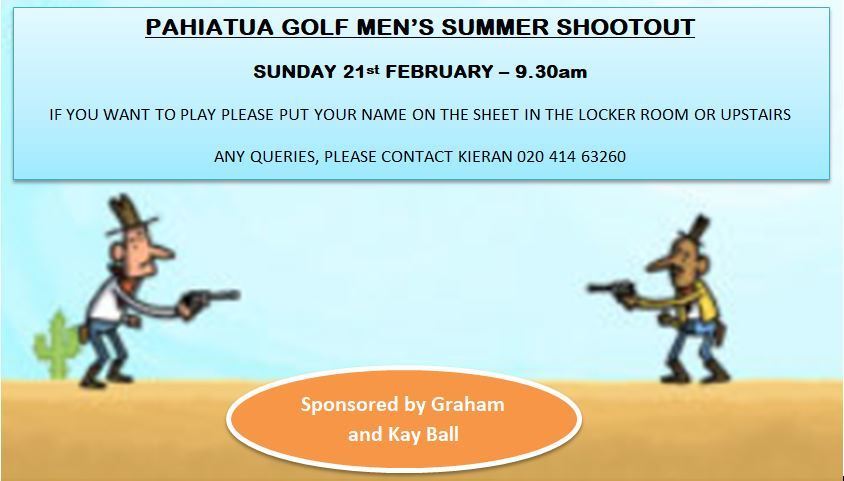 COVID-19 – We are at Alert level 2 and have been sent guidelines from Golf NZ. Hopefully we will be back to normal tomorrow. If there is any extension, you will be sent an email on how it affects us here at golf. Meanwhile, scan the QR code, wash hands and be sensible.
LADIES PENNANT:
Lisa Cotton and Lindy Wheeler lost to a strong Wanganui team at Manawatu on Sunday. Championship Pennant is played off the stick.
Ø On Monday Pennants at Marton were postponed due to the COVID Level 2 restrictions. The home team did not feel comfortable hosting.
CLUBS NZ NORTH ISLAND LADIES' CHAMPIONSHIP
Congratulations to Pam Bisset, Colleen Daysh and Margaret Drysdale who were placed 7th from 35 teams at Ohope this past weekend. Good golfing, representing both the Tararua Club and Pahiatua Golf.
NZ MASTERS GAMES – WHANGANUI – MEMBERS IN THE MEDALS
Congratulations to 3 of our members who won medals at last week's Masters Games Golf.
Results in their respective divisions are:
Bronwyn Smith – Gross GOLD
Colin Wallace – Nett GOLD
Jason Smith – Stableford SILVER
Jason and Bronwyn Smith – Mixed Foursomes Stableford BRONZE
Colin Wallace and his partner Brent Fafeita – Nett BRONZE
TWILIGHT NEWS, A REMINDER – THURSDAY 25th FEBRUARY LIVE-STREAMED CRICKET
Enjoy live-streamed cricket in the bar. It's a T20 match; Black Caps vs Australia at 7pm. There will be burgers and chips on sale. Everyone is welcome to come on down and join us.
SUBSCRIPTIONS:
Most of you will have your sub invoices by now, these are due on 28th February, and the last day for payment is 31st March. To be eligible for club competitions, you must be financial as at this date. Payment options are available, if you wish to discuss this, please contact Andrew McKnight, 376 7445 or email him on mcknights@xtra.co.nz.
LATEST RESULTS
Thursday 11th February – AT's Pot

1st J Delehanty 41 points WOW!!

2nd B Doherty 37 points

3rd D Percy 37 points

Thursday 11th February – TWILIGHT Ladies'

1st R Squires 23 points

2nd K Ball 20 points

Men

1st Jacob Smith 25 points

2nd S McHardy 22 points

Top Team: Smith family 63 points

Closest to Pin: R Atkinson #9

Twos: Jamie Smith #18, S Ashton #14

Saturday 13th February - Stableford

1st I Fraser 39 points

2nd D Percy 35 points

3rd R Stewart 34 points

4th Name illegible 34 points

5th J Delehanty 33 points

Twos: P Timmins eagle 2 on #2, well done, M Hemopo #9

Jackpot: #9 M Hemopo $12
Coming up next week:
Tuesday 23rd February, Ladies 36 holes Nancy McCormack Foursomes 9am – arrange own partner.
Thursday 25th – AT's Pot, Twilight, Eketahuna Ladies' Open Day
Saturday 27th – Stableford, Saturday Ladies' National Teams qualifying (nett)
Sunday 28th – Donald & Williams Salvers Rd 1 nett, Mixed Foursomes, arrange own partner 12pm
END
Posted: Tuesday 16 February 2021