Under Alert Level 2 we will resume golf at Pahiatua from Thursday 21st May including the Bar.
1.     ALL visitors to Pahiatua Golf Club must sign the contract tracing book on the shelf by the green fee slot. Preferably using your own pen.
2.     There is hand sanitiser available at the sign in book and cart shed, please use.
3.     Please wash your hands before and after play.
Notices for how we need to conduct ourselves both on the course and in the clubhouse are posted at the clubhouse and on Facebook.
Thank you for your co-operation. Please respect that we are doing all we can to keep our golfing community safe.
COMING UP THIS WEEK:
Wednesday, 13th November
Club haggle - Stableford 12.15pm PLEASE NOTE CHANGE OF DAY
Wednesday, 13th November – Junior coaching 4.30pm
Thursday, 14th November
LADIES' CHRISTMAS CHEER 10am. COURSE CLOSED until 2pm.
Thursday, 14th November – TWILIGHT– Tee off 4pm to 5.30pm – tonight is FREE
Saturday 16th November – CLUB CLOSING AND PRESENTATIONS – Mixed and Men's American Foursomes $10 per head includes afternoon tea. Names in by 11.30 am please
Sunday 17th November – Chamberlain Shield Champion of Champions at Rangitikei – good luck to our team of Campbell MacGibbon, Richard Stewart and Colin (Duey) Wallace.
AGM Wednesday 27th November
Nomination forms are upstairs – please consider putting your name forward for the committee and committee roles. We really need a Secretary!
Notice of the AGM including the agenda, financial statements, President's report and minutes of the previous AGM have been sent to all those who receive emails. If you hear of anyone who has not received an email have them get in touch with Colleen 027 424 1464.
LATEST RESULTS
Tuesday 5th November – Melbourne Cup and Closing Day – Tricky Trio competition

1st M Lockwood, L Wheeler and P Abbot. The day concluded after a delicious lunch put on by the committee for current and former members. Most enjoyable.

Thanks to Phil Sutton who ran our Melbourne Cup sweepstake.

Thursday 7th November – Club Haggle (Stableford)

1st A Devonshire 43 points

2nd D Campbell 42 points

3rd S Huddleston 40 points

4th D Percy 39 points

Saturday 9th November – Nett plus Putts

1st A Devonshire 90

2nd T Lozell 94

3rd D Campbell 94

4th N Pearson 95

Closest to the Pin: I Fraser (9), R Stewart (12)

Twos: There were no twos.
Champion of Champions Sunday 10th November at Pahiatua
After a glorious sunny morning's round for the players, the heavens opened up shortly after the start of the afternoon round and stopped play. Thank goodness the Organisers held their nerve and, after a delay of almost 1½ hours, play recommenced and the players were able to complete the rest of the holes. There are many people to thank for this successful day, starting with Jason and others who were responsible for presenting the course in such a marvellous condition, and again, where would we be without our ladies? The food provided and presented for the players was well received and we enjoyed another lucrative day. It was a long day, some troopers out there over 12 hours.
While we did not bring home any team trophies, our own Lisa Cotton (pictured) won the Apiti Cup for the best nett in silver division, congratulations Lisa.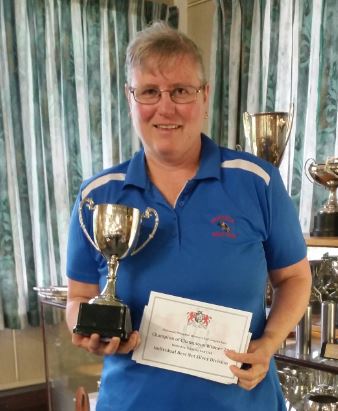 END
Posted: Wednesday 13 November 2019