MACDOUGALL'S TWILIGHT 2019 WINNERS
The family that plays together…….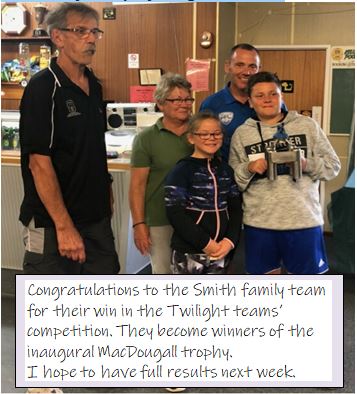 NOTABLE SNIPPETS FROM GOLF LAST SATURDAY
There was a two scored on each of the five par 3s last Saturday – the first time that anyone can remember this happening (there were six 2s in all, two on Poplars #12). The jackpot had to go of course. See below for full results.
Paddy Galvin shot his age (81). Good golfing Paddy! That's an awesome feat for an old fella
MISSING GEAR:
One of our juniors lost a 9 iron on the course last Tuesday. If you find this, can you please drop it into the clubhouse or men's room if the clubhouse is not open and let me know, thanks.
Also, one of our regular visitors lost some iron covers while playing here. If you see any or know where they might be – please let Robert Fryer know. Thanks.
NEW MEMBER: Welcome to Nicole Coppen, our latest new member to the club. Nicole is a recent convert to golf after participating in Twilight. I hope you enjoy many years playing this great game, Nicole!
COURSE NEWS: Bluff green is back in play YAY! GUR - A temporary local rule allows you to move your ball from the front of the green and place on the green no closer the hole.
CART BOOKINGS: Please endeavour to give plenty of notice when wanting to use a club cart. Pam isn't sitting by her phone waiting for your call. She's not always at home and would appreciate plenty of notice.
MEN'S CLUB SHIRTS: Samples for sizing will be available at the club at the weekend. It is hoped all those representing the club will have their own shirt. Cost is $45. See Mark or Colleen for more details. ALSO if anyone has a club-owned shirt at home could you please return it as soon as possible, thank you.
WELCOME BACK to Dale Percy and Deirdre Power. It will be good to see you back at Pahiatua soon!
LADIES' PENNANTS: The Championship Pennant team lost to Manawatu B at Levin on Sunday 0-3. This is a very tough competition, playing off the stick against a team that has a player on an index of 2.6.
MARQUIS SHIELD TEAM was ambushed at Eketahuna on Sunday when they were drawn to play the home team. They will be looking to extract revenge when we host the Shield teams here on Sunday 24th.
RECENT RESULTS
Tuesday 24th February – Mexican Mixup

Winners: P Huddleston, G Sorensen, J Hewlett and M Drysdale 79 points

Two: M Drysdale (14)

Accuracy: C Daysh

Thursday 28th February – Club stableford haggle

1st P Hewitt 44 points

2nd R Fryer 43 points

3rd P Lofthouse 41 points

4th D Campbell 39 points by lot from B Young

Saturday 2nd March – Watson Cup Rd 1 (Par)

1st R Jensen 7 up (by lot)

2nd P Galvin 7 up

3rd M Hemopo 6 up

4th C Daysh 5 up

5th J Cuttance 5 up by lot from P Johns, N Squires and J Delehanty

Twos: M Hemopo (12), N Squires (12), P Galvin (4), T Lozell (14), C Daysh (9), J Cuttance (18)

Jackpot hole was number 9 and struck by C Daysh. Congratulations, Colleen, over $200, a good payday!
Posted: Friday 10 May 2019