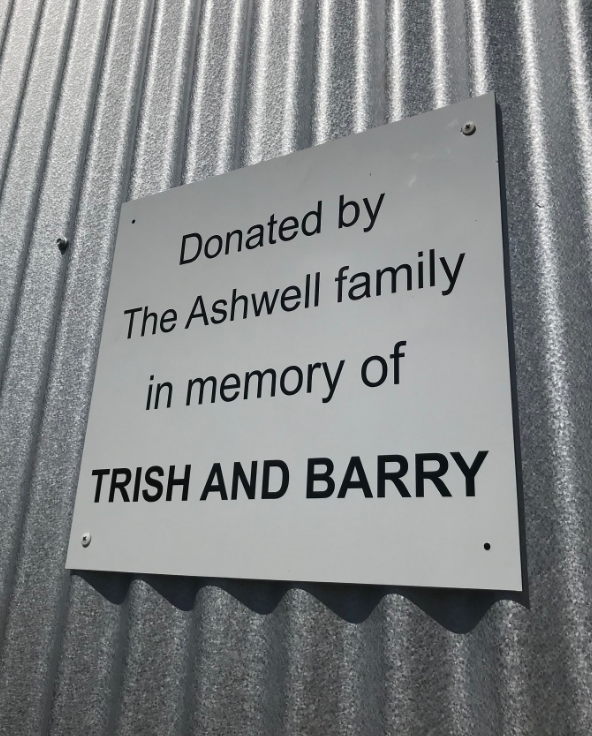 ASHWELL CART SHED OPENING
Thanks to all those who attended the opening of the cart shed. A special thanks to Kevin and Glenn Ashwell who arranged the day and provided food afterwards in the clubhouse. We have a great asset by way of the Ashwell's (Trish and Barry) bequest. Photos from the opening have been supplied by Glenn and Cate - thanks for that.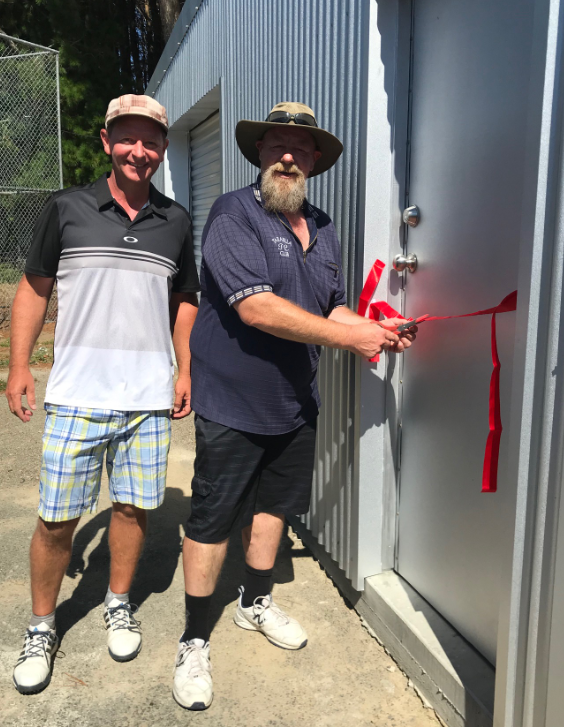 OPENING DAY MIXED AND MEN'S AMERICAN FOURSOMES
SPONSORED BY PROPERTY BROKERS:
Make sure you get your partner for our Opening Day this Saturday. Registrations from 11.30 for a 12noon tee off. Entry fee is $15 per person for golf, accuracies and a BBQ meal at end of play.
If you have any queries, please contact Mark 022 678 8248.
Help get the 2019 season started with a great attendance!
CORING is planned to begin on Monday DEPENDANT on weather and water supply. Water is at a very serious level, so the coring will only commence if it is prudent to do so.
SUBSCRIPTION ACCOUNTS
Most members will receive their subscription account and new programme book in the next couple of weeks. Those new members who have already paid will receive their programme books and membership card as soon as practicable. Please look out for these in the clubhouse when you are there.
LADIES' PENNANTS
Our pennant ladies are off to a flying start for the season with two great wins at Eketahuna on Monday. Silver beat Rangatira B 4-2 while District won 4-1 over the combined Rangitikei/Foxton/Linton Camp united team. Rona Squires was the 4th member of the District team not named in my last newsletter. Congratulations to all the players.
This Sunday here at Pahiatua, Championship Pennants begin with our team of Lisa Cotton and Lindy Wheeler playing Levin. Good luck ladies. Come along to see some of the district's top players. While the course is not closed for pennants, the ladies have right of way AT ALL TIMES. They tee off from numbers 1 and 13 at 8.30 for morning foursomes and afternoon singles from 12.15pm.
TC Ladies did not feature high in the prize list at Pio Pio-Aria last week with one team placed 5th gross from the 36 teams playing while the other team was in the top half of the nett scoring. The local team won the 2 round nett event by 29 strokes from the 2nd placed team!
BALL LOST OR OUT OF BOUNDS RULE please note – this has NOT changed.
Rule 18.2b: What to do when ball is lost or out of bounds
If a ball is lost or out of bounds, the player must take stroke and distance relief by adding one penalty stroke and playing the original ball or another ball from where the previous stroke was made (see Rule 14.6 for procedures for dropping the ball).
The penalty for breach of this rule is referred to as general penalty which is loss of hole in matchplay and a two-stroke penalty in stroke play. If in doubt, play a provisional ball – refer to Rule 18.3.
RECENT RESULTS
Wednesday 6th February – Waitangi Day Mutton comp - Stableford
1st T Lozell 44 points
2nd L Toheriri 42 points
3rd T Kerins 42 points
4th KP Bourke 40 points
5th L Humphrey 40 points
6th T Hall 37 points from P Galvin and N Pearson
Thursday 7th February AT's Pot Stableford
There were 4 players on 41 points – in no particular order:
D Campbell
P Johns
N Squires
L Toheriri
Thursday 7th February – MacDougall's TWILIGHT – by TK
Ladies:
1st V Perry 22 points
2nd S Ross 21 points
Men:
1st= P Diamond and T Lozell 24 points
Teams:
1st Makuri Misfits (Vic, Sue and Patrick taking out the top placings) 67 points, well done to them
Sunday 10th February – Morning Scramble
1st P Timmins 46 points
2nd B MacDougall 44 points
3rd J Brock 42 points
Long Drive: J Brock
2s + 3 stableford: P Timmins number 17
Jackpot not struck
ENDS
PGC Administrator
Posted: Thursday 14 February 2019