JEFFREY EBBETT – Sadly, former member Jeff passed away last week. Jeff joined up a couple of years ago, enjoying his time playing twilight. Our condolences go out to his wife Celine, daughter Maddy, Mum and Dad Geraldine and Bruce and brother Nathan. He will be dearly missed by his family and his many friends.
FROM THE AGM – Congratulations to the new committee: President Peter Bourke, Secretary Margaret Alding, Treasurer Andrew McKnight, Club Captain: Kieran Pierey, Handicapper: Tony Lozell. Committee is Pam Bisset, Kay Ball, Gerald Smith, Bronwyn Smith, Colin Wallace, Mark Field and Richard Stewart.
Ladies' – a Club Captain and secretary are yet to be appointed, but thanks to Sue Ross, Trish Cuttance, Pam Bisset, Margaret Drysdale (Treasurer), Pam Huddleston, Deb Henricksen, Margaret Brislane, Deirdre Power and Bronwyn Smith (Handicapper) for putting their names forward for committee.
CONTACT DETAIL UPDATES:
The programme handbook is about to be updated for 2021. If you have changed any of your contact details – phone number and address, please respond to this email with details, thank you.
CHRISTMAS CAKE RAFFLE drawn on 17th November and was won by Val Moynihan number 229.
TWILIGHT GOLF THURSDAYS – BRING YOUR MATES ALONG, TEE OFF FROM 4.30 it won't always be raining (I hope)
CHRISTMAS CHEER – 12th December keep this date free, Canadian Foursomes, men's and ladies' separate divisions only. Grab your own partner, make up your own groups of 6 or go into the draw.
BUSH CLASSIC – we are at over 100 entries, don't leave it too late. See our website for the details and an entry form.
END OF YEAR COURSE REPORT FROM JASON
Hello all. What a year!! All my plans went out the window due to covid and have been playing catch up ever since. Would like to take this opportunity to thank each and every one of you who have been involved in any way with the day to day running of the course and its events. It's certainly made my job easier dealing with the normal pressures having a team with experience and foresight. Right, in saying that, straight to business. The greens plan was simple, straight back to back dethatching was the plan. Covid buggered that. I wanted to test the greens to see how they would hold up over winter without compromising too much green speed. The mowing height stayed relatively the same all year through. This saw an explosion of moss. A clear indication of underlying issues. A four furrow mole plough was put through side by side to introduce some drainage in the clay base and a follow up with verti draining to get the maximum amount of oxygen to the plant. With speculation that this year will be dry, and now water restrictions apply, this was an extremely risky move on my behalf. I would like to commend the committee for their proactive approach in getting more water storage.
During renovations, we had some lifting on the turf due to the base being so clay and compact. It bent the mole plough as we dragged it through. Worse to come was a bit of mower scalping, and weather has been an issue in terms of getting the chemicals and fertiliser on to aid the recovery. We will continue to complete our reno package right through to January. Other than that, it has been an absolute pleasure working with you all. Would like to wish you all a very merry, safe Christmas, and look forward to working with you all in the new year. Many thanks to the school of hard knots (firewood crew) the gardeners, pest control fishermen, the list goes on. You know who you are. Thank you.
Greenstaff.
LATEST RESULTS – unfortunately I am unable to bring you any results since our Christmas Cheer on 14th November. If I am not at golf I can't get the results. If organisers of Thursday, weekend and twilight competitions could either text or email them through to me that would be great thanks. Then I can share with everyone who is playing all the good golf.
If anyone has news or anything they would like in the newsletter, you need to get in touch with me.
BEN MCLEAN – GOLF SUPERINTENDENT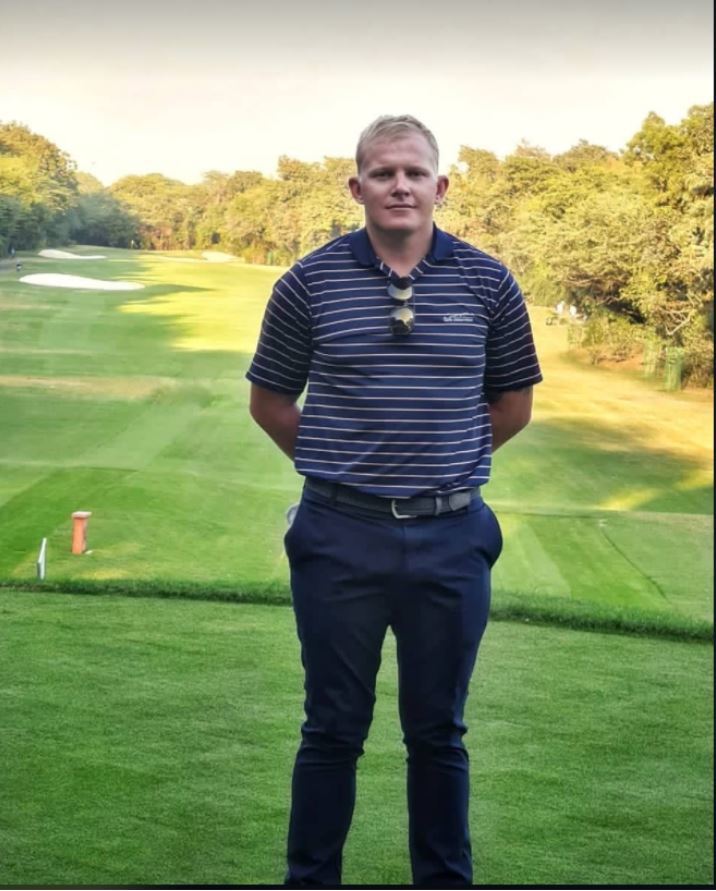 After leaving Tararua College in 2011 Ben Mclean started working part time at Pahiatua golf club, where he was also a junior member. After only a few weeks in the role he had developed a huge passion for it and soon became his career. Ben then left Pahiatua GC and went to Cape Kidnappers GC in Hawkes Bay; 12 months later he was offered an apprenticeship. Once qualified in 2016 he took a 6-month seasonal position at Royal Sydney Golf Club. From there he was offered a position in England where which he was involved in the new build of an 18-hole championship course JCB golf & country club. Once the project was complete, he moved onto The Belfry as an irrigation technician. He spent a further 12 months there. The experience in the UK was invaluable for his career and set him up for a position back in Australia with Troon Golf as the assistant Superintendent at Brookwater golf & country club.
Ben spent a little over two years at Brookwater golf & country club in Queensland as the 2IC.
Recently Ben has accepted a Superintendent position with Troon Golf's latest facility The Delhi golf club in India. There he is managing a 27-hole facility with his team of 85 staff, in the coming years they hope to see a return of the Indian open on the recently reconstructed Lodhi course.
Ben would like to sincerely thank the Committee and the members of the Pahiatua Golf Course for giving him the opportunity to work at the course and a huge thanks to Willie Gilmour and Ian Sturgess who encouraged and helped Ben to follow his passion and dream and get to where he is now.
Many of our members will recall Ben McLean who came to work here initially through the Gateway college programme and used his time well to be able to pursue Greenkeeping as a career. Ben was an accomplished golfer as well, and won a championship and I recall he achieved a great result as a Junior at the champion of champions that year.
I have received this from Ceri, Ben's mum.
Ceri tells me that Ben wanted to acknowledge the help he received from members of the club and to let us know what he is up to now.
I'm sure that those that spent time with Ben will be very interested in the above report.
Posted: Tuesday 1 December 2020